Bayan provides emergency hotlines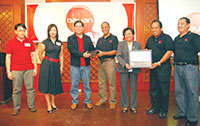 Symbolic turnover of 121 Bayantel units.
From left are Frank Andrada of the
Association of Barangay Captains;
Matti Octavio, executive assistant to the
Mayor Jed Mabilog, Bayantel's Chief
Executive Consultant Tunde Fafunwa;
Department of Interior ang Local Governor
6 Director Evelyn Trompeta; and Bayantel
Vice President Abrigo Merin & VP for HR
Philbert Berba.
Finding help is easy as 1-2-3.
Communication convenience during emergencies is now made easy and possible in Western Visayas through Bayan Telecommunication's creation of the three-digit emergency numbers-117 for criminal reports and local government emergencies , 168 for Iloilo's Citizen Action Group and 911 for the Federation of Iloilo Volunteer Fire Brigade/Red Cross.
In cooperation with Iloilo City Mayor Jerry Treñas and Congressman Raul Gonzalez Jr., Bayan's idea of putting up emergency numbers sprung from their experience after Typhoon Frank. For one, there was no venue for people to ask and sought for help especially in areas that were heavily flooded. During that time, it was only Bayan's wireless landline service that was operational during the critical moments during and immediately after Typhoon Frank.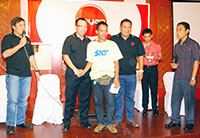 Ruben from Sky Cable wins a Bayantel
phone and one year subscription.
"Congressman Gonzales and his office, in cooperation with the Iloilo Bayan Team, then thought of a way to provide aid to Ilonggos by proposing that barangays in the City of Iloilo should have a Bayan Wireless Landline as a means of communication, in preparation for times of crises," says Abrigo Merin, Bayan's Head of Regional Markets. "And now with the emergency numbers, more Ilonggos will find it more convenient to ask help from authorities during calamities and other emergencies.
Aside from that, barangay tanods also use individual BayanWIRELESS Landline so that it would be easier to contact them during emergency situations instead of the usual radio equipment.
"Bayan is committed to championing the Filipino voice. We were fortunate that the local government units also support this cause," said Tunde Fafnwa, Bayan's Chief Executive Officer.
Through bayanWIRELESS Landline, there are now ways where kababayans from the Western Visayas, Iloilo in particular, can ask for help or assist their fellow Filipinos whenever there is a need for it.
Indeed, in line with their thrust of letting the Filipino voice be heard, Bayan assists local government units by providing channels where important messages can be communicated. Through projects like the emergency hotline, more and more Filipinos can rediscover the value of real communications in their lives.
Recently, the company donated 121 units for the different city barangays. The symbolic turnover was done at the Iloilo Business Hotel.