TWILIGHT
Bacolod La Sallians invade Bago City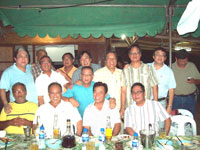 Celebrating Art Puentevella's birthday
with his classmates and closer buddies.
Driving down Bantayan Plaza of Bago City one evening brought me to a visit to the breezy spot where Councilor Victor Javellana's inspiration, Daday Javellana operates a small coffee stop by the river view.
On one table where my friends and classmates stayed, we had some chichirya and drink. At the other end was a long table full of guys and gals full of laughter and some bit of dancing to the tune of the live band.
There I saw our Rotarian friends Philip Lacson, Tata Fregil, Dave and Nena Villanueva. I came to know it was a birthday bash for lively Art Puentevella, brod of Cong Monico. Art was with fellow classmates in La Salle Bacolod like Planta Hotel owner Nene Tanpinco with Ana Marie, Steve and Beging Zayco, Jun dela Paz and more.