ECO POPULI
Answering the cry of Mother Earth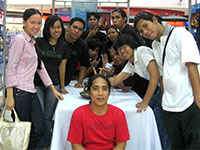 The men and women of Eco-Populi
during Earth Pieces of Hope exhibit.
The ozone layer has become thinner. We are experiencing abrupt alteration of weather. Mother Earth cries and begs for change. That change is vested upon us as vital handlers of everything in this world.
ECO POPULI, Incorporated takes its part in answering the cry of Mother Earth.
It is a non-stock, non-profit organization founded and established in Iloilo City. It is duly recognized and registered under Securities and Exchange Commission (SEC) as of April 2003.
ECO POPULI comes from two Latin words 'oikos', which means 'habitat or environment' and 'populus', which means 'people'. Thus, ECO POPULI generally means people of the environment. This is what the members of the organization should act. Their advocacies are to develop the inherent potentials and abilities of every member in the process of harnessing them for the Filipino nation with the proper respect to culture and value and nature; to offer relevant activities in nature conservation, education and appreciation, and; to establish a community concerning with the ecological balance for sustainable development.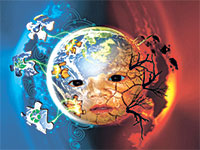 John Latosa's 'The Missing Piece'.
ECO POPULI's primary goals are to preserve and protect the environment for sustainable failure; to help educate people about nature conservation, and; to promote activities that will nurture inherent potential and abilities of every member of the organization.
True to these, ECO POPULI, which started as a school-based organization (in the University of San Agustin) in the late 90's, is spearheading environmental activities to uplift the voice of our environment. Some of these activities are tree planting, coastal clean-up and mountain trekking and forest clean-up. These are craftily formed to educate not only the members of the organization but also the people present in the community in preserving and keeping clean the environment.
The activities are educating and exciting at the same time. Cleaning on a trek while enjoying the scenery of Mother Earth, every activity is worthwhile and applies the most practical way of learning—experience.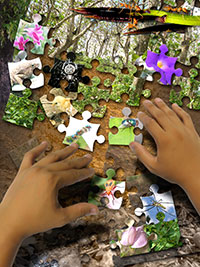 Joseph Benedicto's 'I Am a Piece'.
"We aim to unleash the environmentalist in every person. When they are educated, they know what to do. So, in a little way, they will have some changes in their habits. Even actions like putting a candy wrapper in their pocket instead of throwing it on the street," said Sherwin Humbre, president of ECOPOPULI.
ECO POPULI has undergone challenges testing their commitment and drive. Despite those, they continue to give essence to their vision of a balanced and sustainable, preserved environment protected by a community of persons of faith and character, wisdom and skills, living harmoniously despite diversity, country and fellowmen. Till now, ECOPOPULI stands to air out their advocacies and show a spark of hope in rehabilitating Mother Earth.
As of now there are about 200 members in the organization. ECO POPULI encourages those who want to be advocates of Mother Earth. Commitment is the number one requirement. You could visit ECO POPULI at their website www.ecopopuli.co.nr.
ECO POPULI is one of the many organizations striving for balance in nature, values and culture. They are one of those that promote stability in the environment. They cannot do this alone. They need to hold hands with each and everyone to make this happen.
We should learn from the signs we are apparently experiencing. Mother Earth needs our help. Answer her cries. Take part in establishing a better environment for a better world. Start it now.