Scooby's kins awe Robinsons mallers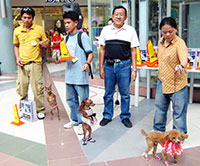 The winners in the costume category.
Savoring the pleasure of training and raising breed canines, owners of quality dogs in Iloilo pooled at Robinson's Place on April 26 and showcased their pets for the Dog Fun Match organized by the Iloilo Kennel Club, Inc. (IKCI).
Proud owners paraded their pets and participated in various tilts including dog costume, dog tricks, dog eating, and quality-breeds dog show before the delighted spectators.
The costume competition was won by Alexa, a mini pincher in summer attire owned by Alden Joseph Aldeguer. The Joker-clad poodle named Hammy of Niel Jumawan and another mini pincher in formal wear named Isis, also owned by Aldeguer, won the second and third places respectively.
Bonito, a smart Beagle-breed handled by Wewin Villanueva, was a consistent winner in Dog Tricks event performing the 'play-dead', 'speak', and 'advance intelligence' and that surely entertained audience.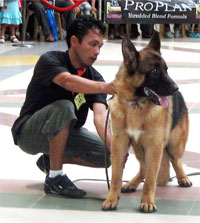 The 6-month-old German Shepherd that
won the dog showdown.
In Dog Food Eating, the bowl in large-breed category was first emptied by a Dalmatian named Primo owned by Ian Jeongco while the small-breed was again topped by Bonito.
A confirmation event of dog breeds followed. On the pure breed adult category, a pug named Kaiser of Sally Mabaquiao won, while a Shih Tzu named Natzu of Estelita Galilea Paria got the mix breed category.
All breed of dogs also participated the Dog Show. In regular entries, selected according to the 'breed standards'set by the descriptive guidelines of a specific breed of dog as prescribed by a mother Kennel Club such as Asia Kennel Union (AKU), Federation Cynologique Internationale (FCI), and our own Philippines Canine Club, Inc., 1st place went to a Beagle, then followed by a German Shepherd, and 3rd spot went to a Pomeranian.
In the champion category, breeds of Mini Pincher, Boxer, and Beagle got the 1st, 2nd, and 3rd places respectively.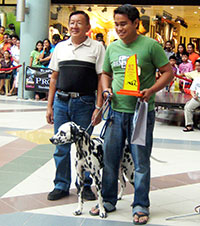 Primo, large breed winner in Food Eating
Contest with Mr. Jeongco, owne, and Mr.
Eng, lone judge.
Winners received a trophy, dog food and freebies from Alpo.
"We see to it that these dogs are registered to the PCCI and a pure breed dog", said event's solo judge Mr. Tebon Eng, Bacolod Kennel Club, Inc. president.
Paolo Jon, IKCI president, said the event aimed to develop camaraderie among dog owners in Iloilo and to have an avenue for fulfillment in the part of dog owners who patiently train and raise their dogs.