Autocross Racing By Ground Effects, SM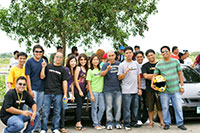 Tech One Racing.
With the success of the Dinagyang Autocross Racing last January 2009, Gus Banusing Jr. of Ground Effects did not waste any time in bringing back the new sport of Autocross Racing to the Ilonggos last April 24 to 26 at the SM City Parking Lot. This time even bigger since this event was co-presented by SM City Iloilo as one of the series of races around the Philippines which started in Cebu, then Iloilo, Bacolod, Metro Manila and Subic Race Way.
This event started with a very long motorcade around Iloilo City. More than 100 motorcycles from the different motorcycle clubs as well as a long line of VW Cars from the VW Club of the Philippines joined.
The race was divided into several brackets consisting of Stock Class, Super Stock Class, Modified Cars, Ladies Division and an All Volkswagen Category.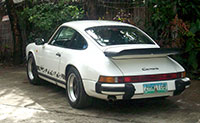 Jon Jon Ng's Porsche 911.
Autocross Car Racing is a low-budget automotive competition at the most intense level. Some people have even learned how to drive their cars better by participating in autocross events.
By joining autocross events, Ilonggos develop their driving skills to make smooth transitions between maneuvers, enhance their braking abilities and skid corrections. These will have an immediate impact on improving the safety and skill of Ilonggos' street driving.