DYKA Veritas Antique turns 37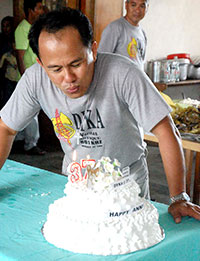 Employees, advertisers, benefactors and friends of Station DYKA-Veritas Antique celebrated it's 37th birthday last May 1, 2009 at St. Joseph Building in San Jose de Buenavista.
The activity started with a caravan, followed by lunch and a program.
Station DYKA-Veritas Antique is headed by Rev. Fr. Edione Febrero as Station Manager.
According to its history, May 1, 1972 marked the formal operation of the radio station. On that day, Radio Kauswagan Antique-DYKA was blessed and inaugurated. Broadcasting at 801 Khz on the AM band, DYKA then operates on a one-kilowatt transmitter until later it upgraded to 5 kilowatts.
"Radio Kauswagan Antique, radio for the progress of the Antiqueño" goes the slogan of the radio station. This rightly describes the founding rationale and mission of the station. It broadcasts as a voice reverberating over the Antiqueño land and sea and even beyond, to promote the longed-for progress and development via the airwaves.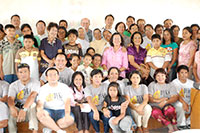 The men and woman of DYKA.
DYKA has spelled out a difference in the heart, mind and life of the great Antiqueño.
Recognition and Appreciation was also given to Salvacion Tandog and Joaquin Ysunza, advertisers and its supporters.