PURR
The Anea Nail Spa Experience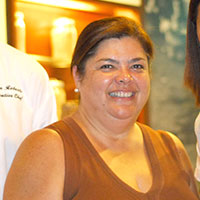 The proprietress, Marichel Magalona.
Beauty starts from the tips
As I was led inside the much talked about Anea Nail Spa, a newly opened nail spa in Iloilo City, I was quite impressed and was looking forward to the experience of being pampered there.
Before me was a beautifully designed room that was quite cool to the eyes. The room was lined with white, big sofas with a table and softly lit lamp beside each one.
The foot spa process started with the feet being washed. Then, exfoliation, with Sally rubbing spa salts on my feet. It was followed by softening the feet by immersing it in warm water mixed with foot soap inside a foot spa equipment. The bubbles provided an enjoyable delicate massage. Five minutes later, the feet are dried and then the removal of dry skin followed. The foot spa concludes with the application of a moisturizer.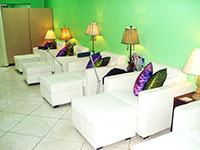 Sofas with rests are white, soft and
roomy.
For the manicure, the fingertips are soaked in warm water for a few minutes. What I liked about Anea Nail Spa is the use of liquids that won't harm the nails. The proper cuticle remover is used. Then, after the manicure and pedicure, the nails are sprayed with alcohol. After that, a buffer provides the shine that the nails need. Lastly, cuticle oil is applied. This promotes healthy nails.
Having your tips pampered provides a very relaxed feeling, not to mention the assurance that the therapists know what they are doing. So, you can even doze off and be confident that you wake up with your nails in their good condition.
The most relaxed posture you assume will make your spa experience a good one. Try putting a pillow at your lower back then prop up one at the back of your head including the neck. The sofas were designed to be wide in order for you to have enough room to move.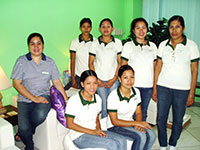 Anea Nail Spa's manager Carmen
Mabunay (in striped shirt) with the
therapists.
Anea Nail Spa opens at 11 AM and closes at 7 PM. It is located inside the Kasanag Well-being Centre at the Ground Floor of Perpetual Succor Business Center, 104 San Agustin Street (formerly Jalandoni Street), Iloilo City. It can be reached through telephone number 5081112.