PURR
Plazuela Opens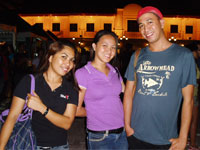 Mary Clare Tabucon, Menen Sang-alan and Ramon Salvilla.
Plazuela Iloilo held its soft opening last Nov. 19, 2010 with a concert by four well-known bands. Sugarfree, Callalily, Sponge Cola and 6Cyclemind led the crowd of students and young professionals (saw some families as well!) to greater party heights at the mall's parking lot.
Surrounding the area were food and beverage booths. Most of them sold Coke and Sprite products, the party's sponsors.
The first tenant that opened at that time was Padi's Point. So, those who were not really into band music proceeded to this joint to enjoy the latest music tracks with their friends.
With the opening of Plazuela Iloilo, shopping and partying will definitely be livelier.