PURR
Nissan Iloilo Celebrates Excellence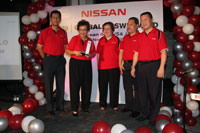 NMPI Sr. VP for Marketing, Sales and After Sales Val de Leon, Nissan Iloilo Chairman & President Virginia Segovia, VP-Operations Marissa Segovia, UMC Asst. VP for CS Marketing and Service Division and UMC Asst. VP for Administration and Spare Parts Dept.
Nissan Iloilo (S&J) Motors was given the 2010 Global Nissan Sales and Service Award recently. The awarding and celebration was held at the Nissan Iloilo office along E. Lopez Street, Jaro.
Virginia Segovia, chairman and president of Nissan Iloilo, said that they pledge to continue the essence of the said recognition by living it out and being consistent in bringing it down to the last team member of the dealership.
Marissa Segovia, VP for Operations, in her closing remarks, said that S&J will deliver the highest quality Nissan products from their assemblers and provide the greatest value of Nissan Services; build and maintain a competent team; and harness their core values of excellence, integrity and goodwill to promote their brand of personalized customer relations.
According to Smile, Nissan Iloilo's newsletter dated April to June 2010, the company's car dealership business was officially incorporated in 1965 and started as a VW dealer. They adapted to a brand change in the early 80's and after 45 years to this day, Nissan Iloilo will always be a model in responsible leadership in the automotive industry in Panay; able to provide an able and superlative range of quality and innovative products, responsive maintenance and dedicated services that is receptive to customers' needs.
Nissan Iloilo shifts the way you move, a place you can always consider your home.
Erratum
In TNT's Lifestyle Section, dated December 6, in the article entitled "A Time of Giving", Ms. Virginia Segovia's name was published as Veronica Segovia by mistake. Also, the name Milette Larraga should have been Amelita Lazarraga.