WONDER V
A night of guns, boots, fedora hats and cigars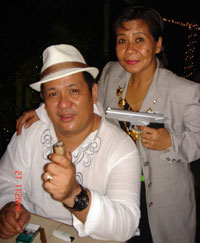 Langford Place's power couple, the birthday celebrator Al Diwa and wife Grace.
He's fondly called "Tito" or "Papa" by people he has no blood relationship with.
He can be one of the friendliest guys you'll ever know but don't dare mess with his temper.
He finds joy in concocting new drinks and experimenting on new dishes that he can include in the menu of Langford Place.
Along with his big body is a big heart for good food, fun time and worthy relationships. Therefore, when Al Diwa, Langford Place's big boss, celebrated his belated birthday celebration last Nov. 27, it was no surprise that fun, flavors and friendship were enjoyed at his party.
In the tradition of the Langford themed parties, Al's party was celebrated with guns, coats, boots, fedora hats and cigars – Mafia Night. Despite some guests coming in their unconventional concept of the word "mafia", the party still went on as how it was expected to be: Langfordian way of revelry.
Cheers to Al Diwa! More happiness and successful Langford years to you!