CCS on Heights of Excellence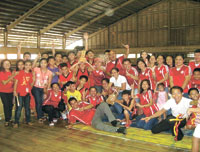 CSS family: triumphantly happy!
Roxas City, Capiz — The Chinese Commercial School (CCS) here performed exceptionally during the recent 2010 Capiz Private Schools Association (CAPRISA) Meet in both sports and cultural fields. CCS achieved outstanding performances in sports tournaments as overall champion in Basketball, Badminton, Soccer and overall champion in Language Festival and Cultural Contest having garnered first places in Filipino Declamation (Edmund Rios Tan-contestant, Dielyn Hijosa-coach), Interpretative Reading (Nicole Lorraine Amparo-contestant), Essay Writing Contest (Rex Menard Cervales-contestant), Feature Writing Contest (Nelia Janine Tan-contestant), News Writing Contest (Mariella Cabugao-contestant), Character Impersonation (Sean Keit Uy-contestant), Mark Julius Fuentes is the coach in the five contests; Story Telling (Jenn Christel Sampiano-contestant, Irene Alcorano-coach), Vocal Solo Pop (Chad Matthew Ocbena-contestant, Lanie Liza-coach), Spelling Bee (Lex Matthew Limjuco-contestant, Myrna Luceno-coach), and Promising Folk Dancers Rex Menard Cervales, Donna Villasis, Kurt Jason Candor, Maria Kydylee Torato, Don Villasis, Kiara Uy, Edmund Rios Tan, Tamara Casey Baylon, with Mark Salvador as coach. What a feat indeed!
Meanwhile, the CCS Basketball Team is composed of champion players Jason Diether Epinosa, Alton Jay Huinda, Irvin Barrientos, Carl Francis Tinsay, Rene Lloyd Barcelona, Karl Vincent Sy, Kobe Barbasa, Carl Jordan Ongchua, Don Villasis, Vincent Paul Mayo, Edel Michael Villaruz, John Eric Mayo, Christopher Manaytay, Buen Daniel Delfin.
The Badminton Team is composed of outstanding players Marie Angeli Camille Delfin, Jeff Stephen Aninang, Francis Amado Lim V, Keselyn Clarito, Joshua Marie Sowdon, Lex Matthew Limjuco, Ma. Alyssa Chille Ocbeña, Aldrinne Desalit, Xandra Uy, Kurt Shane Pomperada.
The Soccer Team is composed of excellent players Kobe Barbasa, John Tyrone Baylon, Noe Salvilla, John Patrick Buhat, Jason Diether Espinosa,Vincent Paul Mayo, Irvin Barrientos, Luke John Barbasa, Jay Andrew Apaitan, Neo Salvilla, Kevin Jethro Ricaforte, Aldriane Desalit, John Daves Leoncito, Justin Kyle Capay.
The sports teams were trained and guided to championship by their able coach Benjie See and sports coordinator Christopher Aulmo.
Congratulations to CCS for reaching the heights of excellence and kudos to your continued commitment to quality education and total development of your students!