Hotel del Rio turns 45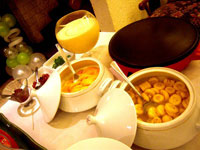 Crepe Station.
Hotel del Rio will celebrate its 45th anniversary tomorrow, Dec. 8, 2010. There will be a sumptuous buffet dinner, ballroom dancing and entertainment at 7 PM.
Established in 1965, Hotel Del Rio has become a leading hotel and landmark in Iloilo City. Hotel Del Rio is conveniently located beside the scenic Iloilo River and only few minutes form the shopping business districts. Hotel Del Rio is known for great ambience, reputation for good service and delicious cuisine.
Courteous and alert, the hotel staff are always ready to serve and make the guest's stay pleasant and enjoyable. Fifty nine spacious rooms and suites are fully air-conditioned, with private bath, hot and cold water, mini refrigerator, telephone, color cable TV and Wi-Fi available on request. Comfortable clean and well-appointed, the rooms are cozy and restful.
Managed by Premiere Islands Management Corporation, Hotel Del Rio continues to upgrade for the satisfaction and comfort of its guests. A truly Ilonggo heritage at its finest.
For tickets and reservations to Hotel del Rio's anniversary celebration, call 335-1171 to 74.