The appointment of the interim board of the Metro Iloilo Water District by the Local Water Utilities Administration is baseless, unlawful and illegal, said Atty. Hans Sayno, legal counsel and corporate secretary of the former board.
The Panay Energy Development Corp. said it started a trial delivery of power supply on Tuesday to the Panay Electric Company and on Wednesday tested its capability to connect to the Cebu-Negros-Panay Grid (not Panay-Guimaras-Cebu as reported earlier).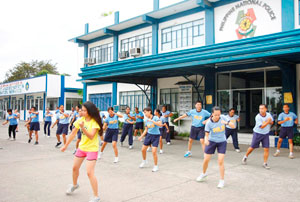 LEO SOLINAP
Fifteen suspected drug pushers were arrested by operatives of the Regional Anti-Illegal Drug Task Froce (RAIDTF) at past 9 p.m. on Wednesday in Brgy. Tanza Esperanza, Iloilo City.
Main suspect Erlinda de la Cruz, 37, was cornered after selling a sachet of "shabu" worth P300 to one of the men from the RAIDTF led by Supt. Leo Batiles.