E-Bags by Bryz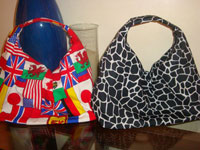 PETITE BAGS
Material: Printed Cotton Fabric
Lining: Catcha
Handle: Cotton prints of the bag
Enclosure: 2 silver zippers
Features: Inside zip pocket
Businesswoman and society maven Engel Loring has been a fan of bags and accessories. Now, she turned her passion for bags into a business through E-Bags by Bryz (E stands for Engel).
The line has three styles – Petite, Cleo Fan and Round bags. All these cost just below P500. "These are made of fabric thus, washable. The bags come in different prints. Animal, floral and camouflage prints, to name a few. So, there is always something that will suit the wearer's personality," Loring said. "We also have pouches that come in the same designs. So, if you want to your bag and pouch to match, then these E-Bags are for you," she added.
These bags will be on display during the 5th Urban Bazaar in Maki and Freska on December 11 and 12 as well as the Christmas Bazaar in PNB on December 14-16. But for those who can't wait for these dates, you can order your E-Bag through this number: 0917.453.8467.