Libro Agustino title wins Nat'l Book Award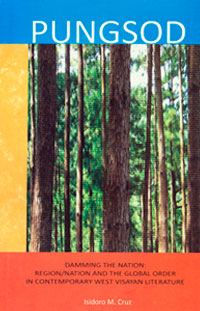 PUNGSOD, Damming the Nation: Region/Nation and the Global Order in Contemporary West Visayan Literature, a Libro Agustino title, recently won Best in Literary Criticism/Literary History in the 29th National Book Awards. The awarding ceremony was held on 13 November 2010 at the Metropolitan Museum, BSP Complex, Roxas Boulevard, Manila.
Pungsod is by Isidoro M. Cruz, Ph.D., current dean of the College of Arts and Sciences at the University of San Agustin (USA). Cruz's book examines the discourse of contemporary West Visayan literature on region/nation and the global order. It describes how the region and the nation are constructed and deconstructed in writings in the three lingua franca (Hiligaynon, Filipino, and English), published from 1986 to 2003. A Palanca award-winning writer, Cruz had previously won a National Book Award for Literary Criticism from the MCC in 2004, for Cultural Fictions: Narratives on Philippine Popular Culture, Politics and Literature.
The National Book Awards is organized by the Manila Critics Circle (MCC), a group composed of reputable literary critics and book reviewers, and by the National Book Development Board. This award-giving body considers Cruz's work as "intellectually intense, meticulously mapped, …down-to-pungsod-earth" and a "tenacious addition to our trove of Philippine literary and cultural studies."
Libro Agustino, the publishing label of the University of San Agustin, was launched in March 2003 during the 50th anniversary of USA as a university. It publishes books by Augustinian and West Visayan authors. Of its thirty-four titles, two have been finalists and another three have won in the National Book Awards.
This triumph by Cruz, an alumnus of the USA College of Liberal Arts/ College of Arts and Sciences, is another reason to celebrate the college's 75th anniversary on Dec. 6-11, 2010. (UCRP)