WONDER V
Kababalaghan sa Langford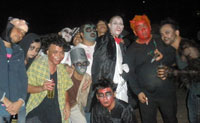 Alej Lutero, Funky Galila, Wonder V, Macky Laviña, Reann Famoso, Christian Caipang, Becbec Castigador, Junjun Villaruz, Dek Jardenil, Langford big boss Al Diwa and Buboy Fainsan.
A "Kampanerang Kuba" in stilettos.
A werewolf that looked like a cat.
A vampire wearing a lab gown.
Those were just a few of the horrendous-looking creatures who joined "Kababalaghan sa Langford", the Halloween celebration of Langford Place in Paseo de Arcangeles.
Many of the Langfordians came garbed in their spookiest costumes despite knowing that they could win the not-so-prestigious title of "The Scariest and Ugliest for the Night". Even a few non-regular customers donned some Halloween costumes and took part in the event.
But it was not all about looking scary and ugly: The diners and drinkers were treated to exciting games with various products from San Miguel Beer, Tanduay, Nature's Spring and Negros Navigation as ups-for-grabs.
After the participants paraded and answered the short interview (Who says this process only goes with selecting the most beautiful, huh?) the judges—-the crowd—-finally determined the top 8: Dek Jardenil, Macky Laviña, Oyen Dasal, Punky Galila, Boboy Fainsan, Junjun Villaruz, Tintin Ortega and yours truly. Eventually, Boboy Fainsan, Junjun Villaruz and Tintin Ortega finished second runner-up, first runner-up and the "The Ugliest and Scariest for the Night" respectively.