PURR
The Mandy Salcedo Club Halloween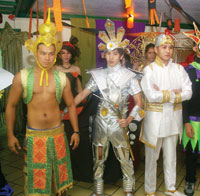 Kenise Parica as the King of Thailand, Karl Romero as Astro Man (Best Futuristic Costume)Jake Serrano as the Genie (Best Halloween Costume - Male).
The Mandy Salcedo Club held its first Halloween Costume Party last Oct. 30, 2010. The fun activity started with a sumptuous dinner, which was prepared by Pilar Salcedo. It was followed by an extraordinary presentation by Kim Bryan Gadong, the Human Beatbox Machine and Iloilo's Got Talent winner. He performed a medley of Buttons, Sexy Back, Poker Face and his signature Eight Sounds In a Beat that left everybody amazed.
The magic did not stop there. It was followed by a costume contest of Salcedo's models and staff. The judges were Architect Edgar Suelo, Mandy Salcedo, Dr. Aurelio Salcedo and this writer. Adjudged as Best Halloween Costume for Male and Female were that of Jake Serrano as the Genie and Danielle Marie Santia as Queen Amidallah, respectively.
The prizes were provided by Jeanette Jastia, Jay Garrovillo, Dr. Aurelio Salcedo and Mandy Salcedo.
After the costume contest, everybody changed in their most comfortable clothes so they could take part in the games. The game mistresses were Toni Solinap and Angela Albacete.