An Auction of Dagoy Dolls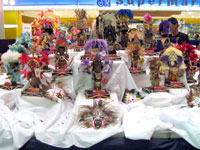 Dagoy dolls for auction.
The City of Iloilo celebrated its 73rd Charter Day with lots of activities to make it more colorful and memorable. One of its more interesting events, a first in the city, is the auction of Dagoy Dolls at the SM City Iloilo Event Center. Spearheading this undertaking are the Iloilo Dinagyang Foundation, Inc. (IDFI) and the City Tourism Office. About 70 Dagoy Dolls dressed in various styles of ethnic clothes made of native materials were auctioned to interested dolls aficionados and collectors.
Winners of the Ms. Dinagyang 2010 Reymond Velez (1st Runner-up), Jocelyn Caceres (2nd Runner-up), Ariane Gabriel (3rd Runner-up) and June Suria (4th Runner-up) went around holding the dolls for the scrutiny of interested buyers. Also on hand to assist them were Khyanna Rosalia, Sheene Mendoza and Kryzza Hilay, models from the Diaz Speech and Personality Center. Members of the IDFI came in force, and even bidded for the dolls that caught their fancy.
If you are interested to own a Dagoy Doll, just visit the City Tourism Office/Dinagyang Lounge, Freedom Grandstand, J.M. Basa St., Iloilo City.