PURR
Robinsons Campus Fashionista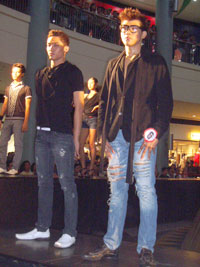 Francis and O'Neil.
Do you have that X-factor to become Iloilo City's next campus fashionista? Then, Robinsons Place Iloilo's Campus Fashionista search is just for you.
The second elimination was held recently, with Purr, model Sarah Jaleco and Oyen Rodriguez as the judges. Eight males and eight female contestants donned the collection of Maldita and they were judged according to their model look (height, body and face), X-factor (stage presence and audience impact) and runway scores (walk and projection).
The male winners were Poseidon, Macky, O'Neil and Francis. The female winners were Trisha, Faye, Amberline and Venice. They will compete in the grand finals, the date of which, will be announced soon.
Those interested to join Campus Fashionista can apply at the Robinsons Place Iloilo Admin Office located at the 2nd level carpark.