Capiceno Way
A Celebration at Filamer Christian University
106th Foundation and 1st University Week highlighted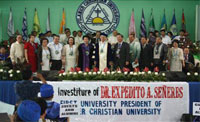 The investiture.
Roxas City, Capiz —- Recently granted its university status by the Commission on Higher Education, Filamer Christian University celebrated its First University Week during its 106th Foundation Celebration last August 18-28, 2010 with the apt theme "FCU: A Manifestation of God's Faithfulness."
Several activities were lined up to celebrate the institutionn's 106 years of existence in Capiz and for distinctly being the First Private University in the province.
The celebration started with the Investiture of Dr. Expedito A. Señeres, First University President with no less than CHED Commissioner, Dr. Nona S. Ricafort who administered the oath and the imposition of the presidential cape.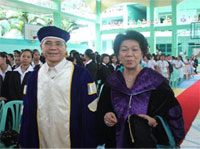 Dr. Expedito Seneres, FCU president with CHED commissioner, Dr. Nona Ricafort.
Dignitaries from the academe, FCU board of trustees, alumni, parents, teachers, employees and local government officials represented by Capiz Governor Victor Tanco, Sr., Roxas City Mayor Alan Celino and Vice Mayor Ronnie Dadivas, and Congressman Antonio del Rosario offered their felicitations. After which, the university marker was unveiled, a sumptuous luncheon buffet followed, and a commemoration worship service was attended by all members of the FCU community.
The University Week was opened with playground demonstration by the Basic Education Department, Cheer Dance Competition and Students' Night featuring the talents of the FCU students. Other activities included a library exhibit, "Unveiling Filamer's Treasures", cultural and sports events, university picnic, open house, beauty and talent search, faculty and staff night, and PTEA day.
The celebration was cheerful and successful and several Filamerian alumni also joined in the festivity. In fact, 450 alumni attended the Alumni Day (biggest attendance, so far), joined the parade and had two booths during the celebration. Headed by Arthur Barbasa as Alumni and External Affairs Coordinator, an Alumni Center was set up wherein an alumnus could visit, view a video presentation of past reunions, and have free coffee or chocolate drink. The FCU alumni committed to give financial assistance for the alumni fund, 10 units laptop computers, and 5 units multi-media projectors. BSN (Nursing) Class 1980 also donated cash as initial support for the construction of the library building and one (1) unit desktop computer to the College of Nursing.
Indeed, all these blessings are "a manifestation of God's faithfulness"!