Bunyag sa Syudad
Lex has 90 godchildren in just three years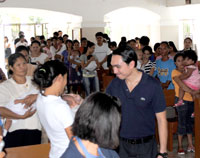 The baptism mass was held at the Our Lady of Fatima Parish Church.
Councilor Lex Tupas who is now on his second term as a local legislature, has made another mark for having the most number of godchildren in a span of three years.
This is because of his project, "Bunyag sa Syudad", a yearly free christening of children from different barangays in Iloilo City.
The project started on Aug. 29, 2008 as part of his August birthday celebration. It started with 29 toddlers. The second Bunyag sa Syudad was held on Aug. 30, 2009 where he was godparent to 30 children. This year, last August 31, Lex again stood as principal sponsor to 31 children.
Parents who have benefited in this year's Bunyag sa Syudad were ecstatic to have availed the free baptism ceremony celebrated at Our Lady of Fatima Parish Church, Alta Tierra Village, Jaro, Iloilo City. It was attended by more than 200 guests and participants, including some city officials who were then treated with food at the prayer house located inside the compound of the said church.
Bunyag sa Syudad Year 3 was supported by Maki Restaurant, Bayani Café and Restaurant, Robert Ferrer of Sarabia Manor Hotel and Convention Center, AMA Computer College Jaro, PCSO Regional Manager Jeanette Oberio, Mang Inasal and other good-hearted individuals.