PINK PEPPER
Do Day at the Capitol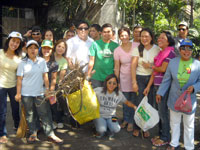 The SP Secretariat.
The Iloilo Provincial Capitol, headed by Iloilo Governor Arthur Defensor Sr., held a clean-up drive entitled "People Power Do Day Kontra Dengue" last September 1. There was a ceremonial opening of the clean-up drive.
Gov. Defensor spoke on the importance of cleanliness in order to protect ourselves from dengue.
After the short program, the employees, volunteers and other participants went to their designated areas to collect garbage. They were asked to bring two plastic bags for proper waste segregation. After that, the bags were brought to a designated waste holding area for proper disposal.
The clean-up drive's varied activities were: Kaya, Kulob, Tambok; opening and exposing of secluded and dark areas, shaking of curtains and drapes, removal of stagnant waters, removal of clogged materials from gutters and drainage, trimming of dense shrubs, bushes, grasses and other plants; and the observance of proper waste disposal like not burning them.
The activity was a province and city-wide endeavor.