PURR
Robinsons Neo Chef Kicks-Off
Part One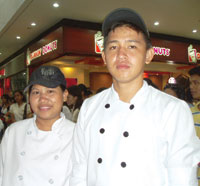 Team Artichoke.
Robinsons Place Iloilo's culinary-oriented competition entitled "Neo Chef" has kicked off recently with the holding of its first monthly elimination.
There were seven teams of two that participated. This year, the Neo Chef committee decided not to reveal which schools they came from so as not to affect the judging process. Speaking of judges, the panel was composed of Purr, Days Hotel's Food and Beverage Manager Xavier Ledesma and Robinsons Place Iloilo Marketing Specialist Rofel John Parreno.
The teams were asked to create three kinds of salad out of the P500 budget that was provided to them.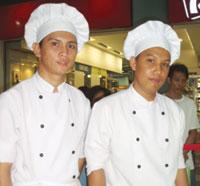 Team Culinar Devils.
The criteria for judging was: good flavor and taste, appetizing or tastefully pleasing to the eyes, correct professional preparation and handling or hygiene.
The winning teams were Team Artichoke and Team Culinarian Devils.
The second elimination will be on Sept. 25, 2010 at 3 PM.
Applications for Robinsons Place Iloilo's Neo Chef are available at the Administration Office, located at the second floor carpark of the said mall.
The Winners' Recipes
Carrot-Mind Salad With Caesar-Honey Dressing
By the Culinarian Devils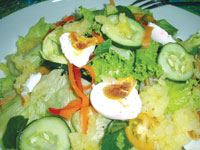 Culinarian Devil's Wild Spinach Salad.
Ingredients:
100 gms Assorted Mesclun, tossed and chilled
50 gms, carrots, thinly sliced
50 gm honey
50 gm Unilever's Lady Choice Caesar Dressing
50 gm cheddar cheese, cubed
50 gm tomato, ripe and sliced
50 gm capsicum
10 gm mint leaves, tored
1 gm peppercorn, freshly crushed
1 gm parmesan cheese
1 gm extra virgin olive oil
Dressing: Combine honey and caesar dressing and blend well. Divide in two parts, set aside.
Salad: Toss one part with mesclun and carrot. Spread the other part on the plate and arrange the salad mixture. Arrange the remaining ingredients and serve.
Pineapple, Grapes, Apples, Kiwi And Orange With Honey-Caesar Dressing
By Team Artichoke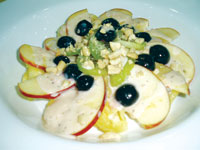 Team Artichoke's Pineapple, Grapes, Apples, Kiwi and Orange with Honey-Caesar Dressing.
Ingredients:
3 cups fresh pineapple, cut into chunks
10 pcs grapes
4 pcs apples, sliced
2 pcs kiwi, sliced
¼ sup cashew nuts, chopped
Dressing:
120 ml honey
½ cup all-purpose cream
50 ml caesar dressing
Salt
Pepper
For the salad: Arrange the sliced fruits on the platter. Drizzle with dressing and sprinkle with chopped cashew nuts.
For the dressing: In a bowl, combine honey, cream and caesar dressing. Season with salt and pepper.