A political headquarters looking like a war camp complete with sand bags surrounding a small hut has created a stir in the town of Maasin, Iloilo, one of the municipalities included in the Commission on Elections' (Comelec) election watchlist of areas (EWAS) in the region.
Peace not war. And while at it, stop the black propaganda and focus on issues of poverty alleviation.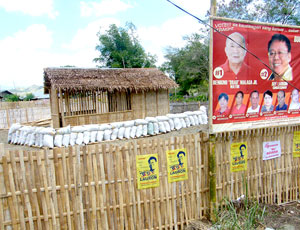 PINOY GONZALES/ PNS
With more than two months to go before he bids goodbye to the police service, Chief Supt. Isagani Cuevas will definitely hold on to his post as Police Regional Office (PRO) director.