Crocs Crocband Jam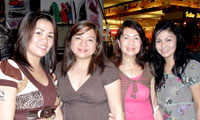 CROC's Marketing Manager Nina Francisco, Sales and Operations Manager Auqie de Guzman, Lynne Lopez and Monina Escutin.
Crocs, Inc., a leading designer, manufacturer and retailer of footwear for men, women and children under the Crocs brand, in cooperation with All Condition Gear Philippines (ACGPI), the exclusive distributor of Crocs footwear in the country, held an exciting event recently at the SM City Iloilo.
Crocs unveiled its new marketing theme for 2010 with the launch of "Feel Good Revolution" that represents Crocs brand as a proven feel-good footwear with innovative and unique shoes designs and materials. Through this new theme, Crocs focuses its objectives towards social and market responsibility by providing quality products and activities that contribute to the community. Crocs introduces attention-grabbing visuals that interpret the "Feel Good Revolution" theme that may be seen at all Crocs concept stores nationwide.
The feel-good experience does not stop there, as Crocs launched its full version of the Crocband collection, which combines Crocs' original style with the look and trendy sport sneakers. Crocband collection features the Crocband clog and flip. Uniquely designed to represent individuality, independence, and expression, Crocband shoes are infused with a youthful and optimistic spirit that Crocs lovers will definitely enjoy and feel good with.
"Crocs is really bringing up its game this year and I hope that people will continue to support exciting new products from Crocs. The Crocband Collection launch is the only beginning for Crocs and there are more to come in the next months," said Franco Limjuco, vice president of ACGPI.