A reunion for WVSU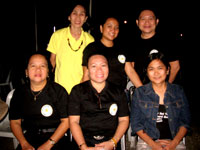 Dr. Leilah dela Llana, director of Alumni Affairs ; Jeanette Puyo-Aguilar, Rhea Peñaflor, Susana Porto Sullesta, Willah dela Llana and Dr. Ramon Zarceno, president of WVSU Alumni.
A decade or two after one has graduated from elementary, high school or college is always the best time to hold reunions. By this time, former classmates have their share of successes – family life, community, business, and other interests they have been into – that they could share to their batch. It's a great time to reminisce about the good old days, especially the funny and controversial moments.
It's the same with WVSU's Class of 1984 in the elementary, high school and college levels, that reunited early this year.
The Jubilarians of Class 1984 engaged in varied activities that were held at the Quezon Hall of the university. One of the highlights was an Alumni Night where the RCP band entertained the former classmates and faculty as they wined, dined and danced. Just like the old days.