BCBP holds 'election walk'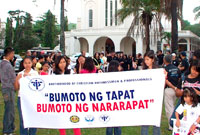 IT was a clear Sunday morning of March 21, 2010, at the St. Clement's Church Grounds when the Brotherhood of Christian Businessmen and Professionals (BCBP)-Iloilo Chapter and BCBP–Molo Chapter, headed by their respective chapter heads, Engr. Jimi Jegonia and Dr. Joe Soriano, conducted a walk entitled "Bumoto ng tapat, bumoto ng nararapat."
The "Be HONEST" advocacy of BCBP is now fully aligned with the PPCRV (Parish Pastoral Council for Responsible Voting) and the COMELEC "Election Advocacy". They vocalize that the electorates must make efforts to know and discern the candidates to vote based on the following:
The BCBP as a group does not, is not and will not endorse any candidate. As individuals, everyone's choice and decision is respected.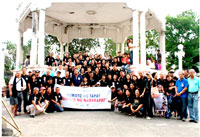 The brotherhood advocates a clean, wise and honest selection of a suitable leader based on the five characteristics mentioned to take the helm of government for the sake of good governance–God-fearing, patriotic, intelligent, industrious and honest.
The mob was composed of 200 participants more or less. They marched from St. Clement's Church to Jaro Plaza. The march started at 6.30 in the morning, and concluded when the group reached Jaro Plaza at 7.15am.
They then proceeded with the completion of distribution of 130 banners and posters throughout Iloilo City and Province.