Bantay Bata Boracay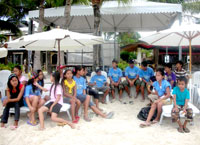 Young volunteers who helped clean Boracay beach.
Keeping the kids away from sex tourism
BORACAY Island's popularity as one of the country's top tourist destinations had made its children victims of molestations, phedophiles, and other tourism-related crimes.
In order to safeguard the island's children from abuse by locals and tourists, Bantay Bata Boracay (BBB) was created in September 2009 and has achieved a positive impact in the island. More children were given protection and more youth are volunteering in varied activities that aim to protect the kids.
BBB is under the management of the Boracay Foundation, Inc. (BFI), which was created to battle child sex tourism in Boracay Island.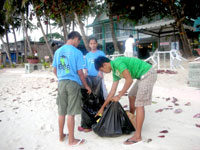 Litter are stored in big plastic bags and disposed properly.
"We keep children busy with several programs. One is a scholarship program wherein 30 students at a time are being taught by Paradise English for four hours a week. We also indulge them in sports training, specifically boxing. Every Sunday morning, Andy Kandachian trains the kids on boxing while trainor Noel Ranoco trains the others on mixed martial arts. This April, we are planning on holding a talent show for the children," said Alex Magno, BBB president.
The children are also kept busy in protecting Boracay's environment by holding a clean-up drive every Saturday.
"We also provide the children with seminars as part of our information drive campaign towards their civic obligations," he added.
Magno hopes that more people would support BBB so they could keep the children away from sex tourism. For more information, contact alexcarlo_m@yahoo.com.