War camp-like political headquarters stirs Maasin town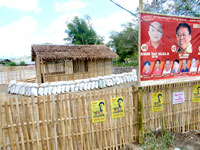 The headquarters of mayoralty candidate Benjamin Malaga in Brgy. Naslo Maasin, Iloilo, surrounded by sandbags, looks like a war camp creating fear among residents in the area.
A political headquarters looking like a war camp complete with sand bags surrounding a small hut has created a stir in the town of Maasin, Iloilo, one of the municipalities included in the Commission on Elections' (Comelec) election watchlist of areas (EWAS) in the region.
The political headquarters in Brgy. Naslo, Maasin, which was set up only two weeks ago, belongs to the camp of mayoralty candidate Benigno Malaga Jr. Curiously, it was placed across the residence and headquarters of mayoralty candidate Mariano Malones, an incumbent Board Member of the Third District.
The scene evokes a "ready for war" atmosphere and informants add that "foxholes" are reportedly being dug in the area.
Brgy. Naslo punong barangay Angel Jamelo said Malaga asked his permission to put up their headquarters on the lot which they rented from the Gumapas family.
"Madamo lang ang natingala kay nagbutang sila mga sako nga may unod balas pareho bala sang mga kampo sang military (Residents in the area were surprised that the hut was surrounded with sand bags just like the military camps)," Jamelo said in an interview.
A source who lives in the area said some residents are planning to evacuate for fear of an impending trouble. "They are afraid that they might get caught in the crossfire," the source said.
Malones confirmed that people in the area are afraid that something bad might happen after Malaga put up the war camp-like headquarters.
"Clearly, it was designed by my opponent to sow fear among the people of Maasin. In fact, it was intentionally placed in front of my residence and headquarters," Malones said.
Malones said, he requested the Philippine National Police (PNP) and the Commission on Elections (Comelec) to monitor the area.
"The sandbags placed there is sending a warning to them... they fear that there is going to be impending trouble or even 'war'… it is clearly placed there to intimidate us and my supporters…," Malones decried. "In my 22 years in politics, this is the first time I requested for police security… it is not only for me but for my family and my people."
Malones' fears were heightened over messages sent through barangay captains identified with him. A challenge cum warning was allegedly relayed for a duel.
"I accept the challenge not for war but for peace..in fact, I was there as a signatory on the peace covenant pursued by the Church and the Comelec while my opponents were absent. And yes I personally sought the help of Inspector Romeo Villasis, our Chief of Police in order to preempt any problem," he added.
Maasin PNP officer in charge Insp. Nestor Senupe admitted that the establishment of a war camp-like headquarters in Brgy. Naslo has created a tension between the camps of Malones and Malaga.
Senupe, however, assured that they are constantly monitoring the movements of the candidates to ensure a peaceful and orderly election on May 10.
Maasin has 50 barangays and 35 barangay chiefs have reportedly pledged support to Malones in a 3-way mayoralty fight.
Malaga is a former mayor himself with his stint during the Martial Law years.