PURR
Hablon is for dolls, too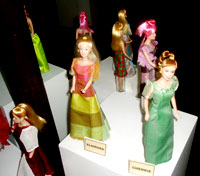 An exhibit of dolls' dresses.
Instead of being thrown away, excess pieces of hablon used for adult clothing, can now we used to make fashionable dresses for dolls as well. This is what Edelina "Edel" Yap, of the University of the Philippines Open University Office, did.
It all started with a Barbie doll gift from a friend, and another friend suggesting that she makes a dress made of hablon cloth to make the item a unique one. Sensing a good idea, Edel sought out hablon weavers and they were generous enough with their 'retaso.' She began making dresses for her doll and the rest is history.
Recently, Edel staged an exhibit of her dolls' dresses. Entitled "Bayo-Bayong Hablon" and held at the UPV Art Gallery, it showcased different dolls wearing varied creations by Edel. The dolls have names as well, mostly named after Edel's family members and friends.
"May these dolls inspire us more in making something beautiful out of little things that others could have just thrown away and thus help in protecting the environment. May these dresses further make us realize the boundless possibilities for our local fabric like hablon to grow and go places," she said.