KKK: Friends of children with cancer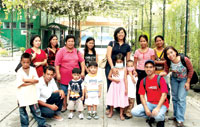 Children's day out at Racso's.
It all started with friends talking over coffee.
Dr. Socorro Martinez and Sol Fernandez were talking vaguely on how they dreamed of doing a project for cancer patients. Sol Fernandez is a cancer survivor (colinic cancer) while Dr. Martinez has always had a soft spot for cancer patients, having her mother, grandmother and uncle die of different types of cancer. At that time, they had no specifics on the how, but they were just sure that one day it would happen. Several talks over several cups of coffee over several years resulted to brainstorming with ideas and projects that both wanted to do, but nothing concrete came about.
Until one day in March 2007, Sol Fernandez renewed his friendship with Mirella Clarete, an owner and manager of House of Dance in Manila who showed interest in doing a project for the same cause. It was then that "Crossover", a dance concert, was conceived. Though there was only just about more than a month to prepare for the show, with the help of the parents of the Sol Fernandez School of Dance, volunteers and friends, the show turned out to be a great success. The reviews were good and the funds generated were more than what everyone expected, given the short time for preparation. The proceeds from the show were used to sponsor the chemotherapy of indigent children diagnosed with leukemia.
The success of Crossover inspired the main movers of the show to organize themselves and make their organization the medium in achieving a common goal. Some of the parents of the dancers who helped out by selling tickets and getting solicitations initially were working only because their children were performing the show. A few, realizing the importance of their efforts and the fulfillment of doing work for a worthy cause, volunteered to become members of KKK (Mga Kaibigan ng mga Kabataang May Kanser). This led to the birth of KKK, friends of children with cancer.
Fund–Raising Projects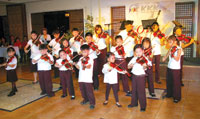 The Iloilo Youth Orchestra also volunteered in Love Heals.
Crossover was followed by Entablado, a theatrical performance by volunteer students of the Ateneo de Manila University.
Then came Love Heals, a Valentine dinner concert topbilled by musical icon Marisa Montelibano-Apuan along with fellow volunteer artists like Dr. Arlan Tabiling, Dax de los Santos, Maricar Buenaflor, the Apuan family, Iloilo Youth Orchestra and the Sol Fernandez School of Dance.
Their next project was Fashionata, a fashion and dance show participated in by volunteer fashion designers like Bo Parcon, Jasmine Castelo, Jor-El Espina, Angel Tan, Peer Lynelle Banas, Grace Clavel, Eric de los Santos, Jaki Penalosa, Angelette Ragus and Aldrich Aparicio and models as well as the Sol Fernandez School of Dance.
Apart from the fund raising events, KKK embarks on activities that are therapeutic for children. Three cancer patients underwent art lessons under volunteer artist Gina Apostol. Several children's day-out activities were also held at Racso's Woodland in the summer of 2008, Sarabia Manor Hotel and Convention Center for Christmas 2008 and Jollibee this summer. Some of the members also visit the children in their homes bearing gifts, as well as check out their condition.
"KKK's activities lighten the burden that the patient and his or her family carry. We let them live by the moment," said Dr. Geraldine Gubatina, a gynecologist and member of KKK.
"Our main challenge is to come up with creative ways of raising funds to support KKK's initiatives. We aim to organizing projects which will not only raise funds, but also raise awareness about children's cancer. We would also want to attract volunteers who will be willing to work selflessly for the group. Eventually, I foresee KKK to work with other organizations that will help us answer the other needs of our recipients and their families," said Dr. Martinez.
The Men and Women Of KKK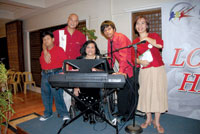 Dr Martinez with the Apuan family, volunteers in Love Heals.
KKK is headed by its president Dr. Socorro Martinez, a radiologist at St.Paul's Hospital and West Visayas University Medical Center. The Vice Presidents are Dr. Ruben Ramirez and Sol Fernandez, radiologist and choreographer, respectively. The treasurer is Mary Ann Gumban, professor of the University of the Philippines. The Public Information Officer is Kathy Villalon, associate editor of Mezzo. The other members are: Cristina Tan, mother of 6 and a PTA executive board of Colegio de San Jose; Dialita Jardeleza, a registered nurse and owner of Square Gold Marketing; Dr. Ma. Lita Fe Paclibar, pediatric hema-oncologist; Dr. Joselito Caso, visiting medical staff of Iloilo Mission Hospital, WVMC, WVSUMC and St. Paul's Hospital; Rev. Fr. Gregorio Porras, a priest; Ma. Elena Torre, staff nurse; and Drs. Eileen Granada, Dina Belicena and Geraldine Gubatina.
Dr. Ramirez's daughter was a dancer of House of Dance and this has started his advocacy with KKK. At present, his involvement includes helping raise funds for the organization. Whenever his friends go to him, he no longer charges them for his professional fees but instead asks them to donate for the cause.
Dr. Lita Paclibar had been handling children with cancer for the past nine years. "It never gets easier. More so when faced with a child whose family do not have the resources for treatment. Many cancers in childhood are treatable as long as it's diagnosed early and is given the proper treatment. Sad to say, in our setting, outcome is often dictated by the ability of the family to sustain treatment. As a Pediatric Oncologist, I've had my share of anger, frustration and helplessness," Dr. Paclibar said.
"KKK has given hope to some of our children suffering from cancer. By sponsoring a child's chemotherapeutic drugs, we're giving them a chance to live. Personally, I've realized that there are so many people with truly good hearts who are willing to give not only monetary gifts, but also their time and talents for these children. I guess one mother sums it up when she said, "It makes me so happy to know that there are people out there who do not even know us, yet care enough to help my child."
Recently, three children succumbed to their cancer, but KKK is not giving up hope. "Risking sounding like a cliché, there is always hope. KKK was formed not to fight against children's cancer, but to fight against the hopelessness that the kids with cancer and their families feel. I guess that's the most important intangible contribution that KKK gives. We try to help them financially for the chemotherapy of the kids and hopefully emotionally, by letting them feel that they are not alone and they can turn to us for support," said Dr. Martinez.
"'Never, never, never give up.' That's the slogan of the T-shirt that KKK is selling and it says it all — that there is always hope," she concluded.
Help us fight children's cancer. Visit our website at www.iloilokanserkids.com or e-mail to iloilokanserkids@yahoo.com. Call us at 0917-3031-400. For donations, please deposit to RCBC Savings Bank, Jalandoni Branch, Iloilo City, Account Name: KKK, Inc. Account Number: 1068017820.