Three counts each of robbery and malicious mischief charges were slapped against five members of the notorious basag-kotse gang.
Jaro Police Station chief Chief Insp. Orly Gabinete said that they filed the case against Arwin Morilla, 28
Police in the province of Antique are being questioned by concerned individuals after it reportedly failed to record and arrest a bodyguard of a municipal mayor caught violating the election gun ban.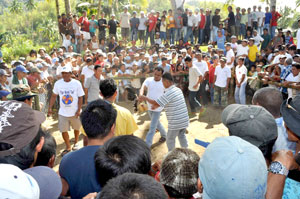 ARNOLD ALMACEN / PPP ILOILO
If Iloilo City Mayor Jerry Treñas will indeed file charges against PO1 Ronnie Refugio, it won't be the first time that the latter will be indicted.
This, as records showed that Refugio was accused of murder almost 12 years ago.