Hala Bira in the USA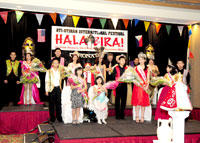 The queens, princesses, muses and consorts.
January 16, 2010, Sheraton Hotel, Jersey City, NJ.–The "hala bira!" chant that's commonly heard in Kalibo Aklan and Iloilo city has echoed here in the United States of America.
For five years now, the Filipino community has kept their devotion to the Sto Niño by celebrating the feast of the Ati-atihan here. Headed by its founder, Rev. Father Donato Cabardo, Jr. of the St. Joseph Parish in Demarest, NJ and the Ati-atihan International Festival (AIF) president, Ms Mary Margaret "Gigi" Casa, this event has gathered about two hundred guests. Unlike the Dinagyang and the Ati-atihan, there is but one tribe that performs simple dance steps and choreographs. The guests expressed their desire to see the "real deal" in Iloilo city. Philippine Consul to the United States, Zaldy Patron and Bergenfield Mayor Robert Rivas graced the occasion.
The Queens and Princesses' coronations highlighted the activity that evening and the 2010 Muses are:Micah De Castro: Ati-atihan Little Princess, Faith Que Cruz: Dinagyang Little Princess, Ann Ann Tirador: Ati-atihan Princess, Laila Cajuelan Fernando: Dinagyang Princess, Eleanora Milagros Almadin Velez: Mardi Gras Princess, Helen Amladi Dimaya: Ati-atihan Queen, Christine Que Cruz: Dinagyang Queen, Emelie Panganiban Sabado: Mardi Gras Queen, Aileen Maluping Reyes: Kasadyahan Queen and Gloria Dehappy: Hirinugyaw Queen.
Excitement filled the room when every guests joined the Ballroom dancing.
Not only that they come to this event to celebrate but to raise funds. Its proceeds go to the Western Visayas Sanitarium in Sta. Barbara and to finance the feeding program and medical missions of the Young Professional Volunteers for Social Reforms (YPROS) in Iloilo city which is headed by Mr. Prince Julienne Hermaine Casa Celo(AIF Prexy's son).
Fr Donato Cabardo, Jr. is a native of Sta Barbara, Iloilo and Ms Mary Margaret Casa is from Calinog, Iloilo.
Mrs Corazon Santiago of Jersey City made the Sto Niño's dress.