Iloilo Prima Galaw presents 'A Night For A Little Romance'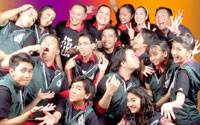 It is not "just a concert".
It is not "just a play.
It is not "just dinner".
It is all these and more.
Iloilo Prima Galaw, Inc. (IPG), the emerging performing arts group and 2009 National Winner of the Ten Accomplished Youth Organizations (TAYO), presents, "A Night For A Little Romance" on February 26 and 27, 2010 at the Emilion Function Center. This unique post-Valentine presentation combines the elements of drama, dance and music written by Leolette Esther Hubag and directed and choreographed by Romie John Delariarte. Matinee shows will be at 2:00 PM and gala shows with dinner is at 7:30 PM.
Gleaning from the greatest love stories, poems and songs of all time, A Night For A Little Romance is a treat for the senses. Men, women–the young and old alike, will truly enjoy reliving their own romantic notions as they enjoy a sumptuous dinner (for gala shows only) with Iloilo Prima Galaw's musical play about contemporary characters going through the different seasons of love. It mainly revolves around artists in a theater group. There is Celine, the lovable female stagehand, whom the audience will be rooting for as she wishes for the ultimate heartthrob, Chase. Then there is Soeren to complete the love triangle, who has been secretly in love with his best friend for years. Something audience should look forward to is the adaptation of classic poems in a prom scene by new IPG talents from Angelicum School, Ateneo de Iloilo, Georgia International Academy, West Visayas State University and St. Paul School Barotac Nuevo. IPG's musical artists render romantic ballads like "Falllin'" and "The First Time I Loved Forever, to name a few and ensemble performances of "Say A Little Prayer" and "Seasons of Love".
A Night For A Little Romance provides great family and "barkada" entertainment and above all the most extraordinarily amazing treat for the special someone in your life. As the line in the play says it best: "Love is always worth it" so shall A Night For A Little Romance be for you.
For inquiries and ticket reservations please call (033)361-2982 or text 0915-851-5033 (Globe) and 0929-648-4968 (Smart).
Prima Galaw will give you a preview of their performance on February 5, 3 PM at Amigo Plaza Mall.
Dream. Discover. Inspire.