TWILIGHT
Enjoying Dinagayang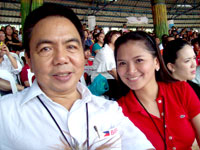 MMDA Chairman Bayani Fernando sat beside Iloilo Councilor Jamjam Baronda at the Freedom Grandstand
IT WAS a colorful Iloilo last weekend as hundreds of thousands of visiting local and foreign tourists trooped to Iloilo City and a million crowd altogether enjoyed Iloilo Dinagyang, the best tourism event in the Philippines.
After the Holy Mass to honor the Sto. Nino, our grouped moved on the Freedom Grandstand where fellow media figures awaited the big event preceded by the arrival of national and local officials of the country among them led by Mayor Jerry Trenas and Vice Mayor Jed Patrick Mabilog and Councilor Jamjam Baronda of Iloilo who joined Governor Sally Zaldivar Perez, Sen. Tito Sotto, MMDA Chairman Bayani Fernando, Senator Dick Gordon of the Red Cross and Congressman Bongbong Marcos including the beauties of Dinagyang.
Iloilo Red Cross Chairman Ramon Cua Locsin and JCI National VP Jomarie Moriente also enjoyed the festivity along with GMA TV Bacolod Station manager Tina Magbojos, SM City Bacolod PR lady Lorena Martinez, and San Miguel Beer boss Emil Baja and Roger Macrohon.
It was another mark for Iloilo and those who were there could not forget the highlights enjoyed by many from the downtown area up to Smallville.
We came to enjoy Dinagyang and as we met former Marikina Mayor Bayani Fernando along the road we simply trailed on him as we enjoyed the festivity.
Till the next Dinagyang! Viva Senor Sto. Nino!