CITY Comelec election officer Jonathan Sayno reminded private individuals, politicians as well as government security forces of the total gun ban which would start on January 10, 2010.
THE chief of the Molo police station was brave enough to say he frequents the residence of Presidential Legal Counsel Raul Gonzalez Sr. even before the election period. Senior Inspector Danilo de los Santos said he has been a constant visitor in Gonzalez residence in Jaro asking for legal opinion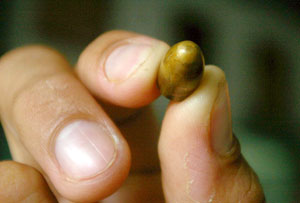 ARNOLD ALMACEN/PPP ILOILO
POLICE shot dead a prisoner tagged as leader of a dreaded robbery hold up group and arrested two other inmates of the Iloilo Rehabilitation Center (IRC) after they held up a tricycle driver. The three inmates bolted out of the reformatory center early dawn Sunday.