Jaki Peñalosa's 'Dreams'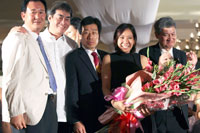 Jaki Penalosa (4th from left) with Rotary Club of Iloilo West and Rotary Club of Ulsan Numbu representatives.
Jaki Peñalosa once again enthralled Ilonggos and foreign guests during her fashion show entitled "Dreams" held recently. Her new designs were worn by Iloilo's top models led by Ria Bolivar, the city's well-known personalities dubbed as "real people" and Koreans belonging to the Rotary Club of Ulsan Numbu, of the Rotary International District 3720 of Ulsan, South Korea. The latter is a twin of Rotary Club of Iloilo West, which hosted the said fashion show. The proceeds of the fashion show will be used to finance a kidney transplant operation.
Earlier that day, the clubs distributed of 300 school bags with school supplies to the Grade 1 pupils of Sambag Elementary School in Jaro, followed by a fellowship luncheon at Hotel del Rio where they made a presentation of the travels that each club as made in each other's countries as well as speeches. The highlight was the formal turnover of matching grant, a fund provided by the Rotary Club to worthy causes. The Rotary Club of Iloilo West has identified the kidney transplant operation, in coordination with St. Paul's Hospital of Iloilo, as its priority project.