Dinagyang Through The Years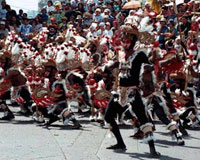 The Iloilo City Ati-atihan in the seventies.
It is really Dinagyang time after the opening salvo was held last Dec. 18, 2009. Even amid the Christmas and New Year holidays, there is anxious expectation and preparation for the 2010 Dinagyang.
The Dinagyang Festival sprung from the ati-ati celebration of the Parish of San
Jose in Iloilo City. The Parish celebrates the arrival of the Infant Child Jesus from Cebu. Although, there is nothing in the Spanish history about the original statue of the Infant Child Jesus coming from Cebu; if it is the same true statue that was brought into Iloilo City's San Jose Church.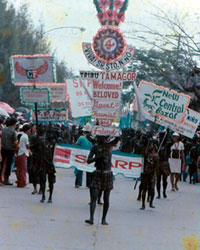 Dinagyang in the early eighties.
This ati-atihan was a small street happening, but it opened up the eyes and hearts of all Ilonggos to the power of Jesus Christ! People had been devoted to Santo Nino since Christianity as taught to them by the Spanish settlers who first resided in Dumangas, then Oton, then Arevalo. (I suggest you review the interesting history of these towns).
Be that as it may, as the ati-atihan caught the attention and fancy of the Roman Catholics in Iloilo, plus the insistence of a Ilonggo journalists, the ati-atihan has evolved into what is now called the Iloilo Dinagyang Festival. And it has become the ultimate festival nationwide.
Dinagyang Festival 2010 promises a lot. A lot of guests from neighboring towns and islands of the Philippines will come. Tourists have come to see this spectacle, so expect more to come. The organizers are leaving no stone unturned. So folks, it's Dinagyang time!
This year folks, it will great expectations from each Ilonggo, whether the 2010 Dinagyang, will still surpass the last years festival. ABANGAN, ABANGAN! (Copyright I-Travel Series)