NEGRENSE WAY
Losers Win!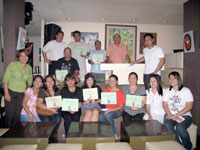 Tucked in the second floor of a small nondescript internet cafe beside Riverside Hospital along North Drive, is an office that has changed the lives of many people. Simply called the "Wellness Center", people come here on a weekly basis with a common goal: to lose weight and ultimately to live a life centered on wellness and healthy eating. Based on a US program called the Weight Loss Challenge, Lindy Lacson, Kenneth and Isabelle Valderrama gather people with weight problems, giving them 12 weeks to lose some of it, educating them while in the process, and then, weighing them on the final day to see who gets to win the cash prize as the biggest weight loser. Losing weight has always been a challenge but in this manner, the task becomes easier to do, and most importantly, it becomes a fun way of losing unwanted pounds. Every week, lectures are done that can enlighten anyone with the mysteries of the body and how it takes all that food we gobble up. Hopefully, after the weekly sessions, you're left with a mindset that tells you what you should or should not eat, gradually catapulting yourself to a healthy lifestyle. And if you had to eat what's bad, you'll know just how much you can take, or how to shed it off. At the end of the 12-week session, a party happens, awards are given out, the tape measure is kept in a safe place, and people eat to celebrate the "new you". Inches and body fats are seriously computed to come out with a winner, and while the party lingers on, cash prizes are given out to the (weight) losers.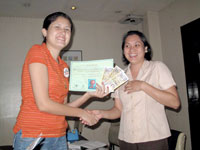 Isabelle Valderrama hands out the awards and prizes.
There's really no set way on how you want to lose weight. You can follow whatever system you're comfortable with, and whatever works best for you. People have joined using Weight Watchers, Jenny Craig, Low Carb Diets, Cabbage Soup Diet, and the "zip my mouth" diet. Do what you want. The lectures will help you change your eating habits so that you get to achieve your goal after 12 weeks. The Wellness Center will continue its goal for a healthier Bacolod, with the hope that you continue what you learn after the 12th week. Lindy, Ken, and the Wellness group consider this as their mission.... live healthy to enjoy life.
This Christmas, surely, we'll take a meal or two of that sumptuous fatty food. But no worries. Next session starts on January 5, 2010. It's a great way to start the year. It will probably be the only time you wish you were called a "loser".