Camella Iloilo's heartwarming Christmas activity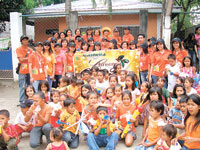 The best and most effective way to teach children the meaning of Christmas is to approach them at their own level of understanding and build upon that understanding as they age. Christmas is the time we commemorate the giving of the greatest gift that man has ever received–Jesus Christ–and that fact should be celebrated each and every day of the year. Rather than temporal giving of material things during Christmas, it is meaningful to celebrate it by selflessly giving our time, heart, and care for the less fortunate people.
Camella Communities, a subsidiary of Vista Land Company and Landscapes Inc. grandiosely celebrates Christmas without losing its true meaning. Aside from its vision of creating themed communities and dream houses for Filipino families for over 30 years, the country's leading real estate company never fails to spearhead charitable events and gift-giving projects nationwide.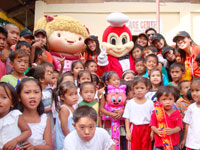 Recently, Camella Iloilo officers and staff who were the force behind the success of Savannah, a 300-hectare world-class themed community in Oton, Iloilo and Lessandra townhouse community along Gorriceta Avenue, Jibao-an, Pavia spearheaded an outreach activity last December 20 held at Sitio Villa Rica, Barangay Trapiche, Oton, Iloilo. The outreach activity benefited the less fortunate residents of the community who received groceries and other goodies to make their Christmas more meaningful. Camella Iloilo General Manager, Lily Donasco and Marketing Head, Cherry Sampani with the whole Camella team headed the event, sharing not only the blessings received by the company but their simple way of inspiring and giving hope to the community.
The outreach activity started as early as 9am and turned out to be a wonderful day of fun, entertainment, refreshment, and camaraderie. Giving a reason to smile to the residents of the community is just enough for Camella Iloilo to continue its mission of success and social significance.
Start living an inspiring life at Savannah and Lessandra. Be part of Camella family now by calling, (033) 337-7699 or visit their website at www.camellacom.com