Iloilo commemorated yesterday the first year anniversary of the so-called 'Great Flood,' caused when Typhoon Frank hit Region VI, dumping rains that triggered flash floods almost everywhere. The City Government held a simple program was held yesterday at the Jaro covered gymnasium.
Malacañang's chief counsel defended President Arroyo yesterday from calls that she should quit if she decides to run to a lower position in 2010.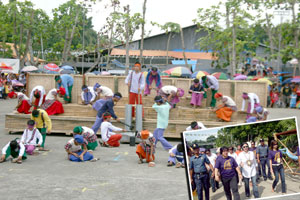 REXFEL TRIVILEGIO / PPP
BADIANGAN, Iloilo -- Ilonggo ingenuity in the elaborate process of bolo-making shined anew in yesterday's "Pandayan Festival" here. Bolo, the local knife-like tool is one of the homegrown products and specialties distinct to Badianganons.