GK Sooc kids benefit from tarpaulin recycling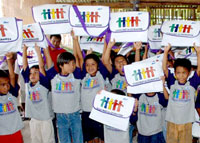 Smart Communications, Inc. (SMART) recently turned over school bags to some 40 children residing in the PLDT-SMART Amazing GK Village in Arevalo, Sooc, Iloilo during the culminating program of the SMART-GK Sooc Summer Storytelling program. These were no ordinary bags. Members of their village recycled tarpaulin to make these school bags under a project initiated by SMART in partnership with Earth Day Network Philippines Inc., to give GK Sooc residents additional means of livelihood. GK Sooc is one of eight villages nationwide that have been adopted by PLDT and SMART. Employee-volunteers have been actively participating not only in the house build but also in the summer storytelling sessions.
This is the second year that SMART conducted the storytelling program for the GK Sooc children. For about five weekends, GK Sooc children-residents experienced the joys of reading and honed their skills in art through the weekly two-hour sessions. The summer storytelling activity is part of Read-to-be-Smart, an education initiative under SMART's corporate social responsibility and community service program Kabalikat. Photo above shows the GK Sooc children showing off their new schoolbags.