PURR
Tatsulok Artisans
Descendants III: Young at Art Workshop and Exhibit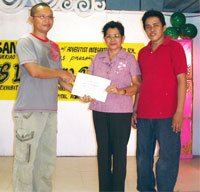 Angelo Duarte receives a certificate
f rom Nenita Jandonero and Jonathan
Jaleco.
Western Visayas College of Science and Technology, through the years, has produced award-winning artists. To further nurture its reputation as a breeding ground of individuals with creative potentials, the Tatsulok Artisans was born here last March 2005. Its pioneers were Jonathan Jaleco, Julius Reyes, Arel Zambarrano and Joemel Mirabuena. These artists continue to serve as mentors to countless young artists who undergo the Tatsulok Artisans workshop every year.Also dubbed as the Gearman's Art Group, it aims to foster and share art to children and to be the best that they can be.
Last summer, Tatsulok Artisans collaborated with the Adventist Integrated Mission School and the Jaro I, Ticud and Mandurriao Elementary Schools in providing art classes for children under their institutions. It was called Descendants III: Young At Art, a children's art workshop and exhibit at Gaisano Central.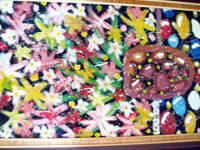 Lou Ray Mercolino.
Angelo "Jun-jun" Duarte, an architect and full-time artist, was the keynote speaker. "There is no shortcut to art. If you have the talent, you have to nurture this so that it won't be lost,"he said. "He said that to become a more effective artist, they should not be content with copying artworks of other people . Instead, the child should 'feel and smell the flower' so to speak. "You have to experience your world in order to create what you have experienced," he added.
He also thanked the parents, guardians and mentors for their support. "At their young age, you already gave them the chance to express themselves. Art is a therapy for children. It is a productive endeavor, thus they won't easily be swayed in useless endeavors," he said.
Lastly, he reminded everyone that art is very important as it can be used for three things: therapy, awareness and advocacy.