101 Luna Prime Steaks and Seafood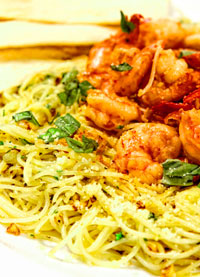 Pasta Gamberetti.
Nestled in a quiet area behind AL DENTE ristorante italiano at Sarabia Manor Hotel and Convention Center is a "Manhattan style" quaint restaurant aglow with edgy cut out hanging lamps from the ceiling and has a sophisticated charming style. This is 101 Luna Prime Steaks and Seafood .
Owner Pauline Banusing who also runs Iloilo's finest restaurants like Al dente, Maki and Freska, takes great pride in keeping the 101 LUNA's menu and prices "down to earth" and says, "there's something for everyone." She was trained at the Culinary Institute of America at Hyde Park in New York. She turns out specialties that are original creations, individually designed and beautifully presented. For the salads here, Pauline brings her creative talents here for your culinary pleasure. Her style is light and relies on fine, fresh ingredients and prepares them simply to bring out all the natural flavors. The excellent Union Square Arugula Salad have just the right mix of apples, grapes, fennel, pine nuts, cashew, carrots, cucumber and organic greens.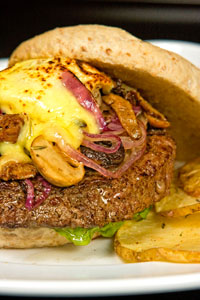 Wagyu Burger.
101 Luna takes pride of its Aged Prime U.S. Angus Steak. Aged for 14 days to ensure the juiciness and tenderness of the steak. Served in a gentleman's size of half a kilo, this thick, juicy and awesome steak is only Php 800. Pauline bought a special equipment that allows the steak to be broiled to perfection. Even if this equipment costs a fortune, she is just happy how her steaks come out- PERFECTLY BROILED. With every order of the Aged Prime U.S. Angus Steak are two side dishes your choice, either it be ratatouille, five spice young corn, grilled asparagus, smashed potatoes, homemade French fries, roasted baby potatoes or confetti rice. You can also choose two sauces of choice--- the 101 Luna Home Made Steak Sauce, Jack Daniel's Steak Sauce, Green Peppercorn Mushroom Gravy, Horseradish Cream Sauce, Classic Mushroom Gravy, Red Wine Shallot Sauce and Dijon Mustard Sauce.
Other must tries are the U.S. Beef Belly slow cooked and roasted for 48 hours and served with Balsamic reduction, the Lemon Crusted U.S. Lamb Chops and the Manhattan USDA Wagyu Steak and the Wagyu Burger which just melts in your mouth. For non-meat lovers are house seafood specialties like Pan Fried Lapu-Lapu, Crispy Char Snapper Fillet , Ginger Mahi Mahi and everyones's favorite the Seafood and Chicken Paella. The generous portions are all cooked to perfection with great combination of flavors. For those who cannot decide, Pauline came up with a TASTING MENU that comes with smaller portions of Roasted Pink Salmon, Lamb Chops and U.S. Beef Belly. Their varied wine list contains reasonable priced selections.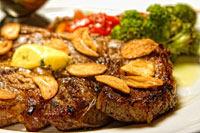 Aged Rib Eye Steak.
The staff was trained to pair your main course with a wine appropriate to bring out the best flavor of the dish. This makes choosing a particular wine easier.
Pauline takes many culinary traditions from incredible "food city" that is Manhattan and combined them with great local products and strong American staples to define the style of 101 Luna .
101 Luna is unassuming and unpretentious and this is how Pauline wants it to be. With the global economic crisis, she wants to keep it real. The whole restaurant is a place to be- the exciting combination of flavors, the well trained young staff, the well priced wine and dishes makes this original new restaurant a real find.