Valle Verde: Heaven's Bliss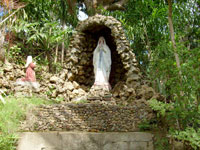 A grotto where the religious can visit.
Cool breeze, clear skies and rolling greens, vast and seemingly endless, greet you in a paradise which makes you relax. With serene breathing space, awe inspiring beauty- a sincere pleasure tank that fills any heart with joy that drains a way any nuisance or pain.
Sure, Guimaras starred in different tourism pages from issue to issue of various publications. In the process, revealing to the world at large all the mighty goodness its nature could offer. You might wonder what more this island could have after all those explorations conducted. Some may roughly scourged by camera flashes and scorching pens but still, nothing can stop this scenic island from giving in to further discovery from diligent explorers.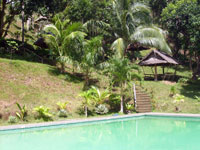 Take a dip in the swimming pool.
Away from its wide, white silicon sands and crystal waters and on to the abrupt slopes of the mountain of Ravina in Sibunag, Guimaras is a breathtaking and laid-back hideaway-Valle Verde. It is where the best secrets of Guinaras were kept but some secrets were meant to be discovered. And in here we are going to unfold the greatest treasures kept 15 road kilometers way from the island's shoreline.
A traveler and nature lover, Luisa Lacson Gedalanga at first thought of developing the 6.9-hectare upland she inherited from her ancestors to a rest house. Having gone to different places, she did not only develop the area for herself but also for tourists and visitors who hunger for peace and for a place to relax and unwind.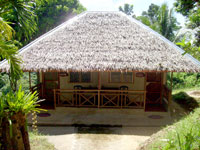 One of the cottages.
Valle Verde Mountain Resort has great things to offer. Tourists can trek the mountains of Buluangan and drench in the cold spring or splurge in the man made pool. For those who want to get rid of that baby fats, toddle the 565 steps of the concrete stairs that decorate the resort complex. And enjoy the scenic view of Lawi Bay at a distance.
This mountain resort offers marvelous bliss at a reasonable price. Tourists can go swimming for 50 pesos in the pool while 30 pesos in the cold spring. Or you can stay for a night for only 350 pesos. For walk in visitors, they can stay in the picnic huts or in the tree house.
"Valle Verde is not a beach resort, the place is very quite where tourists and visitors can unwind, relax, meditate and reflect. We make sure that visitors enjoyed their stay to the fullest", shares Ms. Christy, the resort manager.
Whenever you visit the island of mangoes, don't forget to pass by Valle Verde for a truly splendid escapade.