Luad-Tulon: Pwersa Pintura Group Show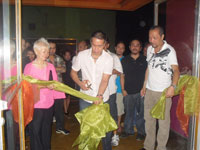 Exhibit opening led by Dr. Cecille Nava,
Jonathan Lo and Charlie Co.
Ten visual artists of Pwersa Pintura are showcasing their artworks at the Orange Gallery, Mandalagan, Bacolod City entitled "Luad- Tulon" a hiligaynon term that referred to one's level of tolerance, if you cannot take it spit it out! Their artwork speaks about their views of society according to what they have seen and observe.
Neil Benavente's works on oil on canvas, his images explore the gawky disparity around him, a rosary and a cigarette, a snake about to strike, a snake on a mask He explains that as the world grows older people become more and more senseless, people become like animals that they just follow their instinct. We people has the wisdom to decide but unfortunately we're ignoring the right thing.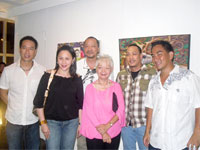 Jonathan Lo, Charlie Co, John Arceo,
Bong Lopue, Lisabelle Lo and Dr. Nava.
Gwen Decena used acrylic on canvas in her pantomime series. Her works are about people who tend to mime or imitate and create their own limit and become blinded with the truth, they seek for freedom that they already have. People make thousands of choices everyday but her challenge in her exhibition is only one of two, luad or tulon.
Joe Geraldo's works in oil in canvas can only be described as deep. His message is short and puzzling. To him, modern lifestyle is ridden with hatred and falseness.
Intel Japitana's photography series of self portrayals in nude are reflective of experiences in a woman's life. It explores relationships and confessions of a past. With the sex scandals nowadays she would like to present the nude as something that is not pornographic. She did this kind of photography because for her being bare is to show the totality of a person.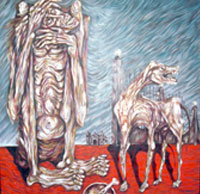 Joe Geraldo.
Tristram Miravalles works in oil and canvas are the Arsonist 1 & 2 and Black Shirt where the subject matter is a view of the Catholic Church. His collection of works is a comment to the kind of things that a Christian country allows in its midst like the religious molesting their students and the constant raising of tuition that good women go into prostitution in exchange for education. He questions the role models, the guides who are themselves into vices. For him these are the things that he cannot swallow and his defiance of the system is in his art.
Bopep Montinola's oil on canvas is a series of four works with one storyline focusing on hunger. His statement is on why hunger never leaves, politics and corruption, and on people with unmet needs continue to sacrifice. The rich go richer, the poor go poorer, and this is a clear case of luad-tulon.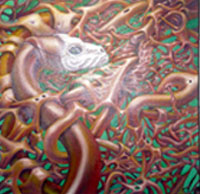 Neil Benavente.
Mikiboy Pama's works on oil on canvas is a series about the youth of which he is part of. In his observation, the youth has a different culture and it starts with the kind of family and environment they have. The series of chaos culminates in a suggestion of a solution in the big work entitle Metamorphosis. He explains that you start with your self, knowing that what is happening here is happening outside. He sees this as a negative-positive cycle.
Juan Rosalia's works on oil on canvas are part of a series about the government system in the Philippines. One of his works is the playing card locally called "amo-amo" is portrayed with monkeys as players. He explains, politicians who are supposedly representatives of the country becoming the game masters of a no-win situation.
Tatang Talanquines' works on oil on canvas on his works he explains that a good economy is necessary for a man to prosper, movement is necessary to avoid stagnation. His big work "Pagsikway sa mga Mahilisaon" is about crab mentality. Luad-tulon, interms of poverty, is a slap on the face.
Dominic Tanudra's works on oil on canvas. He focuses on different immorality and the agony that this society is experiencing. In this exhibition of his he wanted this to serve as an eye opener to everybody that each one of us will help each other not to be a victim. The exhibit opened last June 5, 2009 and it was a success. Exhibit will run until June 30,2009.