No plans for 'Senator Ness,' says she's happy as Parañaque councilor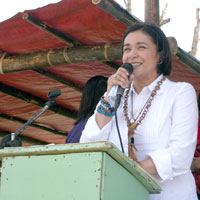 Alma Moreno
BADIANGAN, Iloilo – Actress turned public official, Alma Moreno, born Vanessa Moreno Lacsamana, may be making the rounds outside her turf in Parañaque City. Yet no truth, she clarified, on her supposed senatorial bid come 2010.
The special guest here for the 5th "Pandayan Festival," the celebrity official made the clarification to reporters and before hundreds of locals present.
Referred to in jest as "Senator" by several media personalities, Moreno graciously corrected, "councilor po ako ng Paranaque… hindi po tayo senator.."
On her first term as Parañaque City Councilor, Moreno managed to bag the seat as Philippine Councilor's League (PCL) national secretary-general.
This, as she also denied running elsewhere particularly in the hometown of her husband, Mayor Sultan Fahad "Pre" Salic of Marawi City.
Moreno's presence captured the locals here.
Municipal employees who had the chance to come closest were all praises on the actress who opted to walk to the performance area and refused the services of one with an umbrella.
"Kanami sa iya..ka guapa gihapon… indi siya ya suplada... indi gani siya magpapayong bisan kainit… mayo man naglakat lang siya pakadto kay damo daan nagabantay nga makakita sa iya (She is so nice…beautiful still..she even refused the umbrella offered to her though it was so sunny…good thing she just walked because many people have been waiting to see her in person)," said one woman employee.
Moreno in her talk acknowledged the help of fellow PCL official, Iloilo's Cecilia Colada.
Political career, movies and personal life put together, Ness as she is fondly called by peers is mother to actor Mark Anthony Fernandez, her son with the late respected actor Rudy Fernandez. She also sired a son, former child actor Vandolph Quizon with Philippine's comedy king, Dolphy.
Prior to her marriage to Mayor Salic, Moreno was popularly known as the better-half of actor-politician Joey Marquez. Her 12-year union with Marquez produced three children: Yeoj, Winwyn, VJ, and adopted Em-Em. The marriage though was annulled in 2004.