PURR
Katokamos at the arcade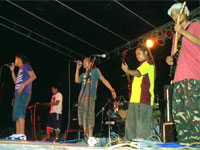 The Katokamos Band.
Reggae music filled the halls of Jardeleza Arcade recently when the Katokamos Band played there. The duo of Jun (owner of Triads) and Neo (owner of Christine and Josh, a grocery at the arcade), brought the Katokamos Band to the laid-back municipality of Leganes, with the hope of giving the residents another chance to party.
Despite the rain, strong winds and the brownout, people trooped to the area and had a feast of Ziad's beverages and barbecues while waiting for the band to play. Ziad is where the people of Leganes hang out for cocktails, good lunches, video games and videoke fun.
The band played at exactly midnight until 3 AM. During their performance, a bonfire took place while guests danced around it. Who says fun happens only in the city?