The Philippine director of the United Nations Development Programme (UNDP) yesterday urged the members of the judiciary and enforcers of the justice system to be outspoken environmental advocates to effectively enforce environmental laws in the country.
It may be the favorite pasttime and choiced fundraising project of Filipinos in general and Ilonggos in particular, yet minus government-prescribed requirements, cockfighting is a big no-no.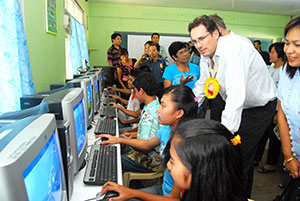 A.CHRIS FERNANDEZ
The National Bureau of Investigation (NBI) has taken custody of a suspect in the kidnapping of Antique businessman James Ardaña.
The NBI is already investigating Pajarito, and taking down his statement regarding the incident, Police Regional Office 6 director, Chief Supt. Isagani Cuevas told The News Today in a phone interview.