Alphacrest Foundation: Responding to the call for service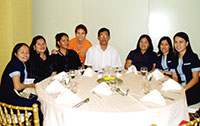 Pearl Joy, Mylyn, Beverly, Ming,
Joneflor, Raquel, Jenelee and Ellen.
Alphacrest Academy previously known as Alphacrest Christian Academy has existed in Iloilo for the past nine years and has committed itself to giving a solid education and producing responsible and industrious students who will excel in their chosen professions later in life after leaving the comforts of their alma mater.
This 2009, as the school transitions into becoming Alphacrest Academy, it gears up for bigger challenges and even greater feats as it aims not only to make a difference in the lives of its students but also by making an impact in the community it belongs to. After the many years that Alphacrest has been blessed with the lives and loyalty of its students, committed teachers and staff, it now readies itself to reach out to those who have less in life by launching Alphacrest Foundation.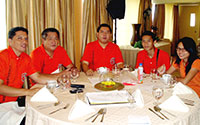 Bong Mabilog, Eduardo Tan, Joseph
Ebdemne, Patrick Mabilog and
Angela Mabilog.
Spearheaded by its chairperson Gerthrode Charlotte Tan-Baterina who has long been immersed in outreach activities from medical and dental missions to relief operations during calamities like the M/T Solar 1 oil spill in the province of Guimaras and typhoon Frank during her time as Supervising Producer and News Anchor of GMA Iloilo's Ratsada, Alphacrest Foundation is armed to respond to the needs of our society specifically in the area of education.
Members of Alphacrest Foundation believe that in order to alleviate the current state of poverty in our society, there is a pressing need to educate our children. .By doing so, these children can aspire to rise above their state of poverty as they mature and aim to become productive and goal-oriented citizens.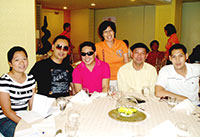 Romelyn Gulmatico, Rexel Sorza,
Ronald Lulu, Trisha Aguirre, Gerry
Salapang and Groover Basa.
As an initial project, the foundation commits itself to helping the children's library of Buenavista, Guimaras by campaigning for books to be turned over to the facility after the municipality was awarded the Most Child Friendly Municipality in Region 6 in 2008. Dr. Samuel Gumarin, mayor of Buenavista, Guimaras, welcomes this initiative filled with gratitude that they will be the first beneficiary of Alphacrest's Book Campaign Program. The Book Campaign Program is a continuous effort which intends to imbibe in our children today the value of learning through reading.
Aside from the Book Campaign Project of the foundation, it will labor to be able to identify Daycare Centers around the city and public school classrooms in need of rehabilitation and aid in restoring them to be able to provide an area conducive for learning to our children. Furthermore, the foundation will help the daycare center teachers by providing them with training concerning the latest teaching techniques they can employ inside the classroom. In addition, Alphacrest Foundation will also engage in the following activities: School-based medical and dental missions for indigent students, feeding program for undernourished students, Christmas gift-giving and scholarship of students.
Currently, there are already existing scholars in Alphacrest Academy. For the school year - 2010, Alphacrest Foundation aims to start taking over these scholarships and finance the schooling of worthy students. Aside from the financial donation that will come in from the Academy, Alphacrest Foundation will also welcome donations from other benevolent organizations and private institutions and individuals.